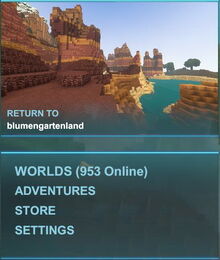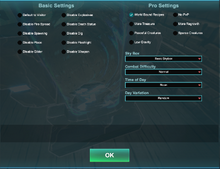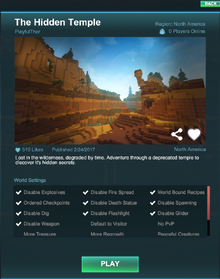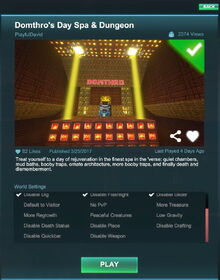 Adventures are basically copies (instances) of Creativerse gameworlds shared with other players.
Usually, Adventures feature a certain goal that needs to be accomplished and sometimes additional intermediate targets. Adventures can be anything that Creativerse players can think of, for example:
sightseeing around a town or structures built by players
search-quests (like searching for all the Checkpoints)
climbing challenges, jumping parcours
rollercoasters (made with fans, ladders, ice-rails etc.)
mazes, dungeon-crawling
storytelling quests
puzzles to solve (Switches, Pressure Plates, Teleporters)
trap parcours with or without challenging fights
- or any combination of such ideas, or whatever else
To play one of the Adventures that other players or members of Playful have already created, you can
either start the game and click on the "Adventure" button listed in the menu right below "Worlds" and then choose one from the list,
or you can use a link that Adventure creators have provided on the internet, for example as can be found on the official Adventure-Subforums: http://steamcommunity.com/app/280790/discussions/5/ (clicking on the link that starts with http://sharing.creativersegame.com/ will automatically start the game and the according Adventure)
To create and/or to play Adventures, the "Pro" upgrade is not required at all. Some adventures can even be a nice opportunity for free players to check out "Pro" world options like low gravity or peaceful creatures.
How to create an Adventure:
build an adventure area in any Creativerse gameworld that you own (you cannot share Adventures made on one of the social worlds created by Playful and it also might not work to set up Adventures on gameworlds of other players). Don't worry about your own stuff that you have placed there, since Adventures are mere copies of your world while your own world remains unchanged. Adventure players cannot steal your stuff nor ruin your buildings by playing your Adventure
to tell players what to do in this area and to convey stories that you might want to tell, you can use signs like Arc Signs, Hanging Stone Signs and/or the messages that Sensors will display when players walk into a specific area that you can define
remember that all players will start to play Adventures without any equipment nor means to heal themselves. Place storage containers like Arctek Chests, Stone Wall Shelves or the like to provide some equipment and consumables, Healing Beacons or pools of Mineral Water for healing purposes
freely make use of Mob Spawners, Block Phasers, Number Pads, Switches, Pressure Plates, Loot Spawners, Fans, locked doors or trap doors and everything else that Creativerse has to offer to make your Adventure interesting
craft at least one Checkpoint (unlocked after crafting an Adventure Gate) and place it at the end point of your Adventure area. You can optionally add more Checkpoints along the way. You can also wire up Checkpoints with Sensors so that the Checkpoints will be activated automatically when a player reaches a certain point of your Adventure
craft an Adventure Gate (unlocked after crafting an Iron Mining Cell) and place it at the starting point of your Adventure. Activate it by right-click or typing "f" (as the default key). Configure your Adventure there. You can now also define that the Checkpoints that you have placed must be activated in a specific order (or whenever players will find them)
Please note that Claims with certain option settings currently can interfer with the options that you might want to set for your Adventure
Play through the Adventure yourself several times to make sure it works like intended, but also let your friends play your Adventure to be absolutely sure
Publish your Adventure for others to enjoy and let them admire your awesome work
Click the 'share' icon on your adventure's main menu panel, copy the URL and paste it into the official Adventure Subforums with a small description of your work: http://steamcommunity.com/app/280790/discussions/5/
Possible options for Adventures include:
default settings of all players to "Visitor" permission rank
enable/disable Explosives use
enable/disable Fire Spread
enable/disable Death Statue (if disabled, players will lose everything)
enable/disable Spawning
enable/disable Dig
enable/disable Place
enable/disable Flashlight use
enable/disable Glider use
enable/disable Weapon use
Settings for "Pro" players:
world bound recipes (if disabled players start with keeping their unlocking progress of crafting recipes, if enabled, players will only start with starting crafting recipes and special crafting recipes being unlocked)
no PvP (if enabled, players cannot hurt each other with weapons)
more treasure (chests)
more regrowth (flowers, mushrooms, beeswax)
peaceful creatures (defensive creatures only)
low/normal gravity
basic or celestial sky
easy, medium or hard combat difficulty (plus at death, either no items or all will be stored in the death statue)
time of day for the adventure to start
day variations (clear or foggy weather)
Ad blocker interference detected!
Wikia is a free-to-use site that makes money from advertising. We have a modified experience for viewers using ad blockers

Wikia is not accessible if you've made further modifications. Remove the custom ad blocker rule(s) and the page will load as expected.