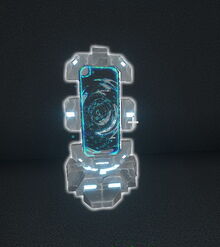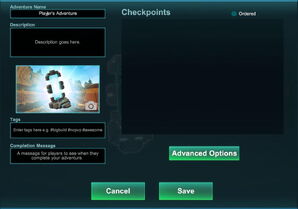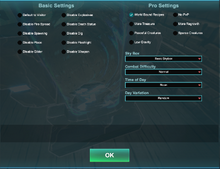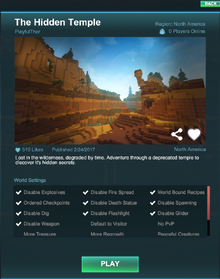 The Adventure Gate is a special portal that you can craft and place. It can solely be used as an access to the starting point of an Adventure (a copy of your gameworld) where you can create an area with challenges or sights to behold and then publish for other Creativerse players to enjoy.
To be able to craft an Adventure Gate, you need to unlock the according crafting recipe by crafting or obtaining an Iron Mining Cell.
To craft one Adventure Gate, you'll need (as of R40 in March 2017):
To use an Adventure Gate, you have to place it into your world, preferable into an area that you have designed to become an Adventure course with challenges and goals for other players.
Please note that you will also need to craft and place at least one Checkpoint (at the end point of your Adventure parcour) or more (along the way as intermediate targets). Also if you try to create an Adventure on other players' worlds or public worlds once created by Playful, this might not work at all.
Then you can activate your Adventure Gate by right-click or typing "f" as the default key and define your settings. As a player who has bought the "Pro" upgrade, you can choose among more options to enable or disable than a F2P player has.
Possible options for Adventures include:
default settings of all players to "Visitor" permission rank
enable/disable Explosives use
enable/disable Fire Spread
enable/disable Death Statue (if disabled, players will lose everything)
enable/disable Spawning
enable/disable Dig
enable/disable Place
enable/disable Flashlight use
enable/disable Glider use
enable/disable Weapon use
Settings for "Pro" players:
world bound recipes (if disabled players start with keeping their unlocking progress of crafting recipes, if enabled, players will only start with starting crafting recipes and special crafting recipes being unlocked)
no PvP (if enabled, players cannot hurt each other with weapons)
more treasure (chests)
more regrowth (flowers, mushrooms, beeswax)
peaceful creatures (defensive creatures only)
low/normal gravity
basic or celestial sky
easy, medium or hard combat difficulty (plus at death, either no items or all will be stored in the death statue)
time of day for the adventure to start
day variations (clear or foggy weather)
Ad blocker interference detected!
Wikia is a free-to-use site that makes money from advertising. We have a modified experience for viewers using ad blockers

Wikia is not accessible if you've made further modifications. Remove the custom ad blocker rule(s) and the page will load as expected.