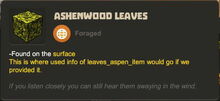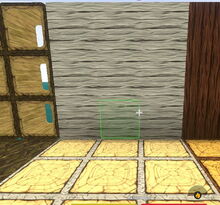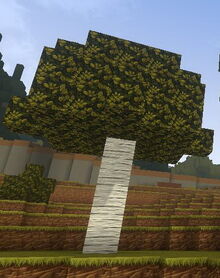 Ashenwood is a block of Wood with white bark and pale wooden core from an Ashenwood-tree.
Ashenwood-trees can be found in Forests, Woodlands and Grassland biomes, also in valleys and foothills of Mountain biomes.
This kind of tree has light green leaves and white bark; it can be found in different sizes from small and bushlike to slender medium size to 2x2 block-wide stems at its greatest height (not much more than medium).
Red Flowers might grow on and amongst its leaves, and there also might be a beehive in its treetop sometimes. Nearly every automatic generated Ashenwood-tree has patches of Moss growing on it, however not as much as the (larger) Weepwood-trees.
Ashenwood-trees also can be grown by players from Saplings to an average slender size, though often without

Moss, Flowers or Beehives. Flowers and Beehives may grow by themselves later on though, and Beehives can also be grown by players planting

Queen Bees on Ashenwood.
Blocks of Ashenwood can be changed into

Wood Slabs or

Wood Rods in a Processor

. Ashenwood and

Ashenwood Leaves can be used as

Fuel for Forges

too.
Ashenwood as well as Ashenwood Leaves can also be corrupted.


Corrupt Bombs or
Corrupted Wood will turn them into
Corrupted Ashenwood respectively
Corrupted Ashenwood Leaves. This will make them into

Fuel of much higher quality.
Unprocessed Ashenwood can be used to craft a number of recipes in the Crafting Menu, like (as of R25 in November 2015):
Ad blocker interference detected!
Wikia is a free-to-use site that makes money from advertising. We have a modified experience for viewers using ad blockers

Wikia is not accessible if you've made further modifications. Remove the custom ad blocker rule(s) and the page will load as expected.