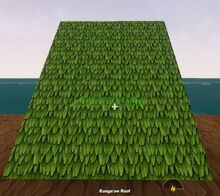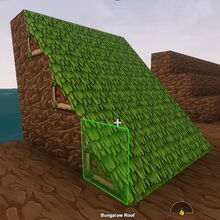 The Bungalow Roof is a slanted block with a light green leaf-like or feather-like pattern and bungalow-wooden underside that you can use as a roof-tile or for other purposes (it can be rotated).
It can be crafted in your Crafting Menu (default key "Q") after the according crafting recipe has been unlocked by
To craft 8 (blocks of) Bungalow Roof at a time, you'll need (as of R43 in May 2017):
Even though it is a wooden building block, the Bungalow Roof currently is fireproof. Even when throwing Fire Bombs at Bungalow Roof blocks, they still will not go up in flames.
Since R42 in May 2017, inner and outer corners blocks can be created for Bungalow Roofs too by putting them into a Processor. No crafting recipes are required for this.