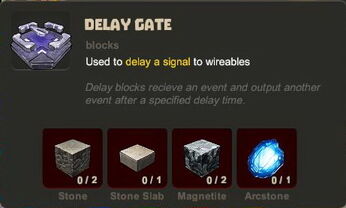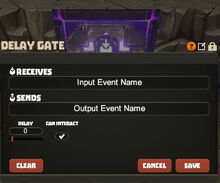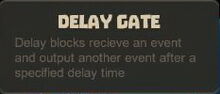 The Delay Gate is part of the Wiring-System in Creativerse.

Delay blocks recieve an event and output another event after a specified delay time
It is a Reciever and a Sender, with a delayed Signal.
It is an Input/Output-Machine. The Output is only delayed and not manipulated at all.
If the Wiring Tool is used to connect with a Delay Gate,
it will display the Send or Recieve Hotspot Overlay-Image.


The Delay Gate can be configured with the Wiring Tool.
With the Wiring Tool equiped, point on the Delay Gate-Block, press the Key "N" to display the Inspection-Window.
It can be named.
It can be restricted for Access
It can be changed the Interactivity
("can Interact")
It can be set a Delay Timespan from 0 to 10 in Steps of 0.5.
To send out a delayed Signal connect the Delay Gate with one Sender and one Reciever. Interact with the Delay Gate (F-Key) and set the delay Timespan.

The Delay Gate can be crafted in your Crafting Menu (default key "Q").
For 8 Delay Gates You need these Items to craft them:
The Delay Gate will be unlocked after Crafting the Switch.
Ad blocker interference detected!
Wikia is a free-to-use site that makes money from advertising. We have a modified experience for viewers using ad blockers

Wikia is not accessible if you've made further modifications. Remove the custom ad blocker rule(s) and the page will load as expected.