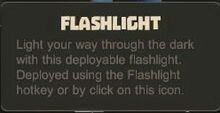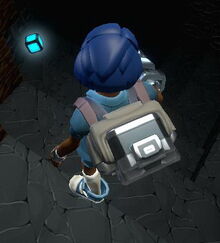 The Flashlight (looking like a glowing cube) is an equipment device that can be switched on and off to light up the area in front with white light.
Currently (as of R33 in August 2016) only players who have a "Pro"-status are given that Flashlight as a reward for paying. Also early backers and players who have bought coins for money via the store before August 2nd 2016 have been automatically promoted to "Pro".
The Flashlight has its own equipment slot to the right side of the character model and cannot be unequipped. When the player character is defeated, even in Hard Mode they will not lose the Flashlight (nor have it put into a Death Statue) when respawning at their Touchstone.
You can switch the Flashlight on and off with the "L" as the default key, which can be customized. If you look at your player character with 3rd-person view you will see the blue Flashlight (when activated) floating beside your character's head.
Despite it's blue color the Flashlight still emits a bright white light directed straight ahead.
Ad blocker interference detected!
Wikia is a free-to-use site that makes money from advertising. We have a modified experience for viewers using ad blockers

Wikia is not accessible if you've made further modifications. Remove the custom ad blocker rule(s) and the page will load as expected.