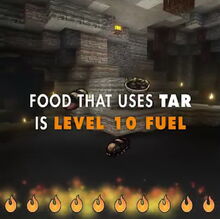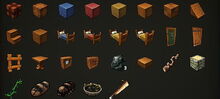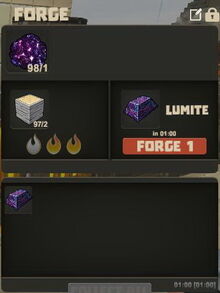 To harden, melt, burn or roast things in the Forge, you will need to burn Fuel.
Different kind of blocks, things and materials can be used as Fuel (as of R34 in September 2016):
2x Wood of any tree (Cragwood, Ashenwood, Elderwood, Shorewood, Parchwood, Wildwood, Aumtumnwood, Weepwood)
2x Logs of any kind (Cragwood, Driftwood, Weepwood)
4x Leaves of any tree (including Dark Wildwood Leaves)
8x wooden building blocks like Wood Walls, Wood Floors, Wood Gravel Walls, Wood Roofs, Tile Wood Floor, Decorative Wood Floor, Decorative Wood Walls, Blue Wood Walls, Yellow Wood Walls or Red Wood Walls
8x Wood Stairs, 8x Wood Ladders, 8x Wood Windows, 8x Barred Wood Windows, 2x Beds (also Red Beds, Yellow Beds, Blue Beds), 2x Wood Doors, 2x Rustic Wood Doors, 2x Wood Tables, 1x Wood Sword
4x Shrubs, 4x Tallgrass, 4x Savannah Tallgrass, 2x Shorewood Husks, 2x Vines, 4x Weeds, 2x Moss
8x Wood Rods, 4x Wood Slabs
- all of these will need 1 minute to melt 1 Lumite Ore into 1 Lumite (bar)
1x Coal, 4x Hardened Lava or 1x Sulfur
- will need 30 seconds to melt 1 Lumite Ore into 1 Lumite (bar)
2x Corrupted Wood of any kind, 4x Corrupted Leaves of any kind (including Corrupted Ashenwood Leaves and Corrupted Elderwood Leaves)
- will need 20 seconds to melt 1 Lumite Ore into 1 Lumite (bar)
1x Tar Sandwich
- will need 20 seconds to melt 1 Lumite Ore into 1 Lumite (bar) as it says when putting it into the Forge
- will only need 6 seconds to melt 1 Lumite Ore into 1 Lumite (bar)
To make Tar Bread, you will only need (1x) Tar and (4x) Wheat, while for Tar Soup more ingredients will be necessary. Tar can be scooped up infinitely (as long as you only pull the extension of flowing Tar and not the source) and when using a Lumite Mining Cell it will lose only a little of it's durability. Wheat can also be regrown, however this will take some time and patience.
Wood and Leaves are renewable resources because you can grow trees from Saplings that you can get from blocks of Leaves just by placing and taking them again and again. Still Saplings will take some time to grow into trees. You can pull wood and leaves without any Power Cells equipped though, or by using strong Power Cells like the fast-working Lumite Mining Cells that will not lose durability when pulling plant materials.
You can create Coal infinitely by freezing Tar, but you will have to use Freeze Bombs and Extractors of any kind to mine the Coal.
You can change most blocks of Wood into Corrupted Wood by simply placing them against any corrupted blocks or Corrupted Water. However for picking up Corrupted Wood, Diamond Mining Cells or Lumite Mining Cells are needed and both will lose durability while pulling, as does mining Hardened Lava.
Examples of things you CANNOT use as Fuel currently (R34 in September 2016):
Ad blocker interference detected!
Wikia is a free-to-use site that makes money from advertising. We have a modified experience for viewers using ad blockers

Wikia is not accessible if you've made further modifications. Remove the custom ad blocker rule(s) and the page will load as expected.