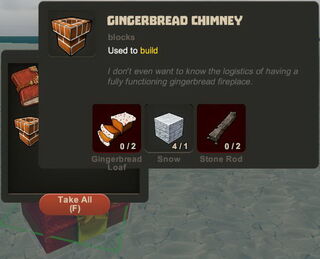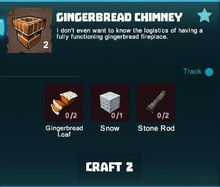 Gingerbread Chimneys are decorative blocks that can be toggled to emit white-grey smoke (by pressing F). They can be crafted in your Crafting Menu (default key "Q").
Gingerbread Chimneys as well as the recipe to craft these christmas-themed blocks can be found in randomly spawning Holiday Gift-boxes during the Festive Season event around Christmas. There are also player-built Adventures that let you learn these recipes.
To craft a set of 2 Gingerbread Chimney blocks, you'll need to find and learn the recipe first. Then you will need
Gingerbread Chimneys can be rotated by pressing R and the left mouse button while moving the mouse.
Ad blocker interference detected!
Wikia is a free-to-use site that makes money from advertising. We have a modified experience for viewers using ad blockers

Wikia is not accessible if you've made further modifications. Remove the custom ad blocker rule(s) and the page will load as expected.