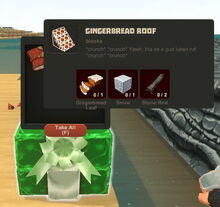 The recipes for these christmas-themed building roof blocks can occasionally be found in randomly spawning Holiday Gift-boxes during christmas-times - like from December 14th 2015 until January 13th 2016.
To craft 8 Gingerbread Roofs at once you'll need (as of R26 in December 2015):
Since R42 in May 2017 inner and outer corners blocks can be created for Gingerbread Roofs too by putting them into a Processor. No crafting recipes are required for this.
Ad blocker interference detected!
Wikia is a free-to-use site that makes money from advertising. We have a modified experience for viewers using ad blockers

Wikia is not accessible if you've made further modifications. Remove the custom ad blocker rule(s) and the page will load as expected.