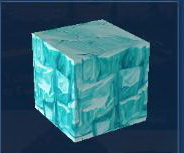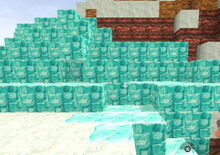 Ice blocks can be found in frozen oceans or frozen rivers underneath a short ("stompable") layer of Snow, in caves in Peakstone mountains, or other high elevations or cold areas where Water can occasionally freeze. They require a stone mining cell to collect.
Ice blocks can be processed into 2 Ice Slopes with a Processor.
Also, ice blocks can be obtained by freezing water at an in game average temperature of ~ -8° (temperature can be measured by typing in the chat /temperature). While biome and altitude aren't necessary factors in order to obtain it, temperatures can only be reduced by a limited amount (about 45 degrees), so player-made ice chambers can be created to farm ice given a low enough starting temperature.
Ice blocks are considered an easily renewable block
Ad blocker interference detected!
Wikia is a free-to-use site that makes money from advertising. We have a modified experience for viewers using ad blockers

Wikia is not accessible if you've made further modifications. Remove the custom ad blocker rule(s) and the page will load as expected.