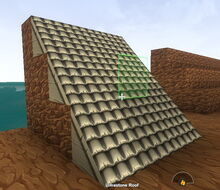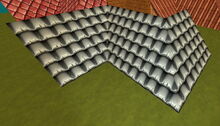 The Limestone Roof is a slanted building-block covered with white roof-tiles on the topside having grey borders that you can use as a roof-tile or for other purposes (it can be rotated).
It can be crafted in your Crafting Menu (default key "Q"), but only after the crafting-recipe has been unlocked by
To craft 8 (blocks of) Limestone Roofs at a time, you'll need (as of R43 in May 2017):
Since R42 in May 2017 inner and outer corners blocks can be created for Limestone Roofs by putting them into a Processor. No crafting recipes are required for this.
Ad blocker interference detected!
Wikia is a free-to-use site that makes money from advertising. We have a modified experience for viewers using ad blockers

Wikia is not accessible if you've made further modifications. Remove the custom ad blocker rule(s) and the page will load as expected.