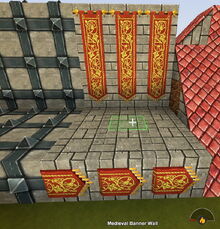 This block is part of the Colossal Castle blueprint and block-set. You can buy either the Colossal Castle bundle, which gives you the recipes, or the Medieval pack, which gives you a sample of each block, but not the recipes.
It can be crafted in your Crafting Menu (default key "Q") or at any Crafting Table in worlds created before R22 on September 16th 2015, after the recipe has been unlocked upon buying it. The blocks will appear in the crafting menu in the "build" section under the headline "medieval".
The Medieval Banner Wall was introduced on May 1, 2017 during the R41 update.
The block is medium and light grey with a red-and-gold strip of cloth with floral designs laid over one side and hanging down two sides, one side pointed with tassels and one with a gold-coloured rod with fleur-de-lis end pieces. The visible stone of the block actually does not look like in the crafting preview, but shows a larger square surrounded by 12 smaller squares.
To craft a stack of 8 Medieval Banner Wall blocks, you will need

The block can be rotated by pressing and holding R and moving the mouse while holding the left mouse button.
Ad blocker interference detected!
Wikia is a free-to-use site that makes money from advertising. We have a modified experience for viewers using ad blockers

Wikia is not accessible if you've made further modifications. Remove the custom ad blocker rule(s) and the page will load as expected.