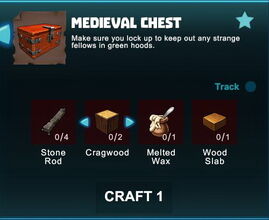 Medieval Chests are part of the
Colossal Castle
blueprint
and block-set. You can
buy
either the Colossal Castle bundle, which gives you the
recipes
, or the Medieval pack, which gives you a sample of each block, but not the recipes.
They can be crafted in your Crafting Menu (default key "Q") or at any Crafting Table in worlds created before R22 on September 16th 2015, after the recipe has been unlocked upon buying it.
The Chests are 2-block-sized storage units with 32 slots. They are reddish brown with metal reinforcements on all corners and over the lock.
To craft one Medieval Chest, you'll need
Empty chests can be rotated along their vertical axis by pressing and holding R and moving the mouse while holding the left mouse button. It is not possible to flip them on their side or turn them upside down.
You can name Chests individually (these names will be shown when you look at them instead of "Medieval Chest") by opening the chest and then clicking on the icon that looks like a square (note) with a pen to the right of the word "Medieval Chest". You can type up to 30 characters into this array. Even though while writing into this field all letters look like capital letters, lower case letters will be displayed just like you wrote them after confirming your entry with "enter"/"return".
You can also change a few settings for each chest by clicking on the padlock-icon shown in the top right corner after activating/opening the chest. Here you can set individual authorizations to control who can get access to this chest (and its contents). Available permission-settings are: "just me", "world owner/admins", "world mods", "builders" or "everyone". On Claims the available settings are "just me", "claim admins", "claim interact only", "claim builders" and "everyone".
Ad blocker interference detected!
Wikia is a free-to-use site that makes money from advertising. We have a modified experience for viewers using ad blockers

Wikia is not accessible if you've made further modifications. Remove the custom ad blocker rule(s) and the page will load as expected.