Making the game Creativerse moddable is being considered by Playful - however at a future date.
This is what the official FAQs stated for years until the launch of the game (May 2017):
And this is what members of Playful have stated about this topic on the forums: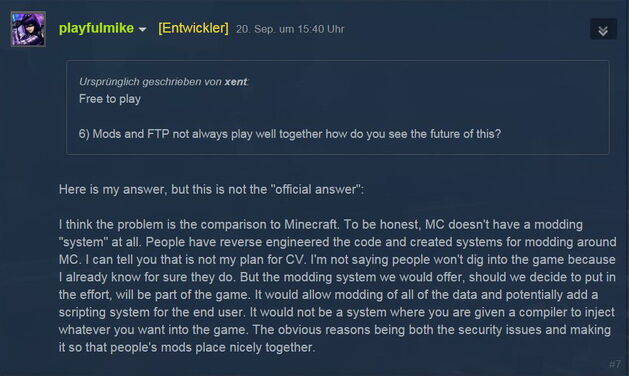 Please note that you have to accept the EULA at the time you install Creativerse - as is common for nearly every multiplayer online game, before you will be able and allowed to play this game.
http://www.playfulcorp.com/creativerse_eula.html
So if you have Creativerse installed on your computer, then you must have accepted this EULA, which is a legal contract. By clicking on the "I agree" (or "I accept") button you have promised to abide by the terms and conditions, even if you perhaps have not bothered actually reading them.
In regard of any modifications that you plan to make for/to the game or that other players have created unauthorized, you should call your attention to this part of the EULA for Creativerse:
"Except for the initial loading of the Game Software on a single unit you shall not, without our express written consent:
(a) Copy or reproduce, auction, loan, rent, lease, sublicense, gift or transfer the Game Software;
(b) Modify, adapt, translate, reverse engineer, derive source code from, disassemble, decompile or create derivative works based on the Game Software or any accompanying materials, except to the extent allowed under any applicable law or expressly allowed by us.
Any use of the Game Software in violation of these limitations will be regarded as an infringement of our copyrights in and to the Game Software.
Obviously, we cannot have you hacking our software. Therefore, by accepting the terms of this EULA, you further agree that you will not, under any circumstances:
(a) Modify the Game Software in any way, including but not limited to the use, development, or sale of cheats, automation software (bots), hacks, mods, whether developed by you or a third party;
(b) Exploit the Game Software for any commercial purpose, including without limitation (1) use at a cyber café, computer gaming center or any other location-based site; (2) for gathering in-game currency, items or resources for sale outside the Game Software; or (3) for performing in-game services in exchange for payment outside the Game Software;
(c) Remove, disable, modify, deface, or circumvent any security protections, proprietary notices or labels contained on or within the Game Software;
(d) Export or re-export the Game Software or any copy or adaptation in violation of any applicable laws or regulations;
(e) Create data or executable programs that mimic data or functionality in the Game Software;
(f) Use any unlawful, obscene, pornographic, provocative, racist, libelous, abusive, harassing, tortious, defamatory, vulgar, or hateful language or language invasive of another's privacy on the forums and chats relating to the Game Software;
(g) Submit any content containing unsolicited or unauthorized advertising, chain letters, pyramid schemes, or any other form of solicitation or to submit any content containing software viruses or malware of any kind; or
(h) Solicit or attempt to solicit other Game Software user's personal information or collect or post their private information.
Any use of the Game Software in violation of these limitations will be regarded as an infringement to this EULA and will be pursued to the fullest extent permissible under the law."
(Yes, the EULA is a legally binding contract, and if you should break it, you can be held responsible at court.)
Ad blocker interference detected!
Wikia is a free-to-use site that makes money from advertising. We have a modified experience for viewers using ad blockers

Wikia is not accessible if you've made further modifications. Remove the custom ad blocker rule(s) and the page will load as expected.