Player made content Edit
Creativerse already enables and includes user content like player-made shareable Blueprints (for buildings) in the workshop http://steamcommunity.com/workshop/browse/?appid=280790&actualsort=toprated&browsesort=toprated&p=1 and the special game mode "Adventures".
Adventures are instances of player worlds where sightseeing tours for buildings can be made, and all kinds of player-created quests, jumping/flying parcours, rollercoasters, labyrinths, puzzles of all sorts with spawnable mobs, treasures, checkpoints to search for, disappearing/appearing walls (or floor parts, stairs or platforms), timed devices like lights, doors to be locked with number puzzles, switch-puzzles, quest-like stories to be told and much more like that.
The game also offers several customization options, from the look of player characters to nearly all key settings.
Actual modding Edit
Making Creativerse actually "moddable" is being considered by Playful too - however at a future date.
This is what the official FAQs stated for years until the launch of the game (May 2017):
And this is what members of Playful have stated about this topic on the forums: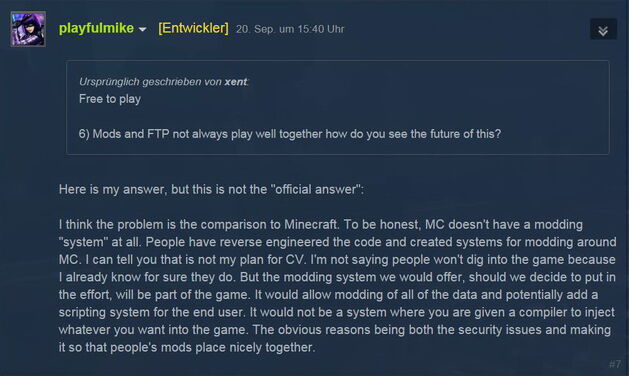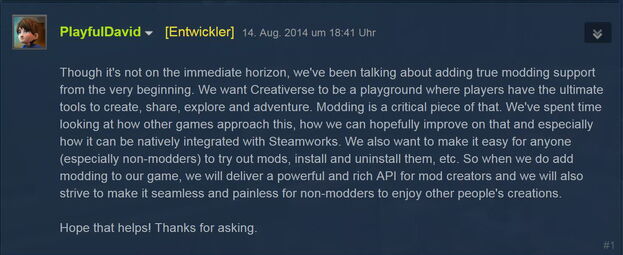 In November 2016 it was stated that Playful still has to figure out how to avoid certain typical problems that mods can produce before the developers will be able to create a modding API.
Like how to deal with copyright-issues (like when modders use copyright reserved content) and other legal issues, that could damage Playful's reputation as a side-effect if blown up by social media. The game balance is another topic to consider, especially when game-breaking bugs originate from player-mods - like when they aren't updated by their creators anymore (which happens so often after a couple of years) while the main game continues to change.
Playful themselves have clearly stated that they will not be able to offer support for any of the possibly hundreds of mods that could be added to the game after modding will be enabled. As an example: just one month after the workshop was opened for player made Blueprints, over 5000 of these were added, and the count still grows.
A way has to be found to coordinate the official game development with player mods, since Creativerse is still updated ca. every month and sometimes with very large new features, which would force game content modders to update their mods very often. And there are features that Playful plans to implement to Creativerse, some of which are already under way; but what if several amateurish player mods would offer these same features before the official professional development is finished and polished?
Last but not least Playful has to find a way to ensure that player-made content, skins like block textures etc. will not recreate, obviate or preempt the purchasable content offered by Playful that is necessary to finance the game development...
It is already possible to alter Creativerse game data/files; but this can get you sued Edit
Nowadays many people know how to extract graphic files or take a look into Unity files of a game program.
However you are not allowed to use this in any way to alter the game or make the data known on any public platform. If you want to do so, you have to ask Playful as the copyright-holders for their permission beforehand.
If you have not downloaded Creativerse yet, then please note that you will have to accept the EULA at the time you install Creativerse. This is standard for nearly every multiplayer online game, before you will be able to play this game.
If you are not willing to abide by the EULA (which includes the usual netiquette towards your fellow players, but also forbids using the game to earn money and modifying game files) then you should not click on "I agree/accept", but in this case you are neither permitted to install nor to play the game.
If you have Creativerse installed, then you must have accepted the EULA Edit
By clicking on the "I agree" (or "I accept") button you have promised to abide by the terms and conditions, even if you perhaps have not bothered actually reading them. And the EULA is a legally binding contract.
http://www.playfulcorp.com/creativerse_eula.html
In regard of any modifications that you plan to make for/to the game or that other players have created unauthorized, you should call your attention to this part of the EULA for Creativerse:
"Except for the initial loading of the Game Software on a single unit you shall not, without our express written consent:
(a) Copy or reproduce, auction, loan, rent, lease, sublicense, gift or transfer the Game Software;
(b) Modify, adapt, translate, reverse engineer, derive source code from, disassemble, decompile or create derivative works based on the Game Software or any accompanying materials, except to the extent allowed under any applicable law or expressly allowed by us.
Any use of the Game Software in violation of these limitations will be regarded as an infringement of our copyrights in and to the Game Software.
Obviously, we cannot have you hacking our software. Therefore, by accepting the terms of this EULA, you further agree that you will not, under any circumstances:
(a) Modify the Game Software in any way, including but not limited to the use, development, or sale of cheats, automation software (bots), hacks, mods, whether developed by you or a third party;
(b) Exploit the Game Software for any commercial purpose, including without limitation (1) use at a cyber café, computer gaming center or any other location-based site; (2) for gathering in-game currency, items or resources for sale outside the Game Software; or (3) for performing in-game services in exchange for payment outside the Game Software;
(c) Remove, disable, modify, deface, or circumvent any security protections, proprietary notices or labels contained on or within the Game Software;
(d) Export or re-export the Game Software or any copy or adaptation in violation of any applicable laws or regulations;
(e) Create data or executable programs that mimic data or functionality in the Game Software;
(f) Use any unlawful, obscene, pornographic, provocative, racist, libelous, abusive, harassing, tortious, defamatory, vulgar, or hateful language or language invasive of another's privacy on the forums and chats relating to the Game Software;
(g) Submit any content containing unsolicited or unauthorized advertising, chain letters, pyramid schemes, or any other form of solicitation or to submit any content containing software viruses or malware of any kind; or
(h) Solicit or attempt to solicit other Game Software user's personal information or collect or post their private information.
Any use of the Game Software in violation of these limitations will be regarded as an infringement to this EULA and will be pursued to the fullest extent permissible under the law."
Ad blocker interference detected!
Wikia is a free-to-use site that makes money from advertising. We have a modified experience for viewers using ad blockers

Wikia is not accessible if you've made further modifications. Remove the custom ad blocker rule(s) and the page will load as expected.