Your player character starts off his/her adventure with a mysterious Crumpled Note in the inventory. 
Torn and Scrawled Journal Pages as well as other Notes, written by an unknown male, seemingly from Earth, can be found in the game in all kinds of randomly spawning Treasure Chests, sometimes also Things or Keepas of any kind might provide you with them.
Currently (as of R29 in February 2016) you cannot "use" these notes in any way ingame, you also cannot put them into your quickbar nor place them into the world (they aren't blocks), you can merely read them for your information as a player and you can store them in storage furniture like chests.
These notes seem to be related to the Data Chips that can also be obtained from Treasure Chests, Things and Keepas). The findings mention an unknown female entity named Pixi who seems to have written the Data Chips and who might have been created by the male person (seemingly from Earth) who wrote the journal pages and notes.
The "order" in which these notes had been written is unknown and you will have to do with guesses.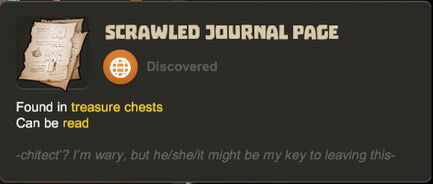 Ad blocker interference detected!
Wikia is a free-to-use site that makes money from advertising. We have a modified experience for viewers using ad blockers

Wikia is not accessible if you've made further modifications. Remove the custom ad blocker rule(s) and the page will load as expected.