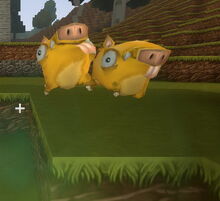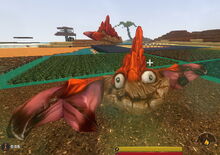 Perfume is part of the attraction-and-fear-system of Creativerse that has been started with update R17.
You might already have noticed Creatures acting scared and running from the scene when you fight other Creatures nearby, or when explosions occur close to them. This will only last for a very short while and will not make Creatures aggressive.
Perfumes affect Creatures in the opposite way. They "attract" Creatures for a brief span and make them display affectionate animations while not pacifying them.
Currently 4 perfumes can be found ingame occasionally in randomly spawning Treasure Chests of all kind. They cannot be crafted.
When using a perfume, the effect (lasting 30 seconds) will make the according creatures close to you start to show affection by animations, get close to and follow your player-character around for this short while (not into Teleporters though).
Perfumes don't always work well on Creatures right in front of your player character, but usually works better on Creatures that are 5-10 blocks away.
The "charmed" creatures will NOT stay peaceful when you attempt to tame them or even attack them. Creatures will NOT be pacified after you have already angered or attacked them (as of R38 in January 2017). 
Feral Pigsies, BossHogs, Corrupted Pigsies and Night Pigsies are not affected by Eau De Pigsy.
Night Leafies and Corrupted Leafies are not affected by Fantasia De Leafi.
Blizzard Chizzards, Night Chizzards and Corrupted Chizzards are not affected by Arome Chizzard
Night Rocksters, Corrupted Rocksters and Rockzillas are not affected by L'Rockster.
The attraction-and-fear-system was announced to have just started.