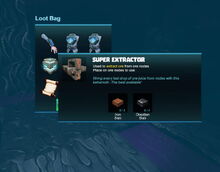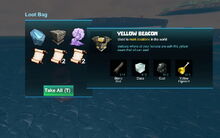 Basic Information
Edit
In Creativerse different types of crafting recipes exist:
common crafting recipes that are part of the Crafting Menu (to be opened with the default key "Q") and greyed out until they are unlocked by collecting specific materials and crafting certain items
4 crafting recipes for the Cooking Station, one of which (Soup) is already unlocked when crafting and placing the Cooking Station
Store-exclusive crafting recipes to be bought in Recipe Packs
event-themed Recipes that can be found on game world only for a limited timespan around seasonal festivities like Halloween or Christmas
and rare Recipes that can be obtained with a bit of luck from randomly spawning Treasure Chests and/or certain Creatures on all Creativerse game worlds
pre-machined crafting materials (a few of which can be used for building too) can be produced in the Processor and the Forge without requiring any crafting recipes to be unlocked or used
This article is about rare crafting Recipes that players can collect from Treasure Chests and/or Creatures and can also share (especially surplus duplicates that have been found) with other players.
This includes temporarily available event Recipes (to be found further below) during Haunted Nights and Christmas Holidays.
After learning ("consuming") these rare Recipes with right click in the inventory, they will be permanently added to your Crafting Menu and available on all Creativerse game worlds, even if the world option "world bound recipes" is enabled.
Some of these rare Recipes look like Books, while others look like Scrolls or slightly crumpled Sheets of Paper (usually called "Recipe Pages").
How to obtain
Edit
Currently many of these rare Recipes can be found in Treasure Chests.
However some recipes can only be found in either low-tier Treasure Chests like Wood Treasure Chests, Stone Treasure Chests or Obsidian Treasure Chests - or only in high-tier Treasure Chests, which means Iron Treasure Chests (that spawn on blocks of the Lava layer in darkness) or Diamond Treasure Chests (that spawn on Corrupted Blocks in darkness).
Only ca. ten percent or less of all spawning Treasure Chests will contain a rare Recipe, and it's very rare to find two of these Recipes in one chest.
Creatures also will provide you with rare Recipes now and then, especially Things and Keepas of any kind. These Creatures can carry many different Recipes with them. If you tame them, feed them and then harvest from them, you might receive less items all in all, but in time you can collect many crafting rare Recipes in a very easy way by that.
The rare crafting Recipe for the Super Extractor can solely be obtained from the very dangerous Things that spawn on Corrupted Blocks in darkness (during day and night).
A few rare Recipes (Banded Weathered Wood Walls, Barred Wood Windows and Weathered Wood Walls) can currently be obtained from Creatures living in Canyons Biomes, namely Trogs, Dustevils and Dried Leafies - additional to finding them in low tier Treasure Chests occasionally as well.
Some special rare Recipes can only be found during event times in special containers like in Holiday Gifts during Christmas season or in Loot Bags of Ghost Creatures during the Haunted Nights even around Halloween.
All but one rare Recipe (the Super Extractor as mentioned above) can be obtained both from Treasure Chests and also from Creatures (mainly from Keepas, Silver Keepas, Golden Keepas and Things).
Currently it's also possible to learn rare Recipes in player Adventures if the Adventure creator has put duplicates of rare Recipes in a storage that you can access during the Adventure.
How to learn rare Recipes
Edit
You can learn all of the rare crafting Recipes that you can find either by clicking on their icon in your inventory/bag with the right mouse button (by default) or by dragging them from the inventory over your player-character's model to the right side of the inventory, exactly like consuming Food or Mushrooms.
Then the crafting Recipe will vanish from your inventory and a message will appear telling you that you have successfully learnt this rare Recipe.
If you already know that specific crafting recipe, the rare Recipe will not be used up and you will receive a message informing you that you already know this crafting recipe.
You can then just store all the duplicates you can collect and can give it to other players who don't know this crafting recipe yet. Recipes can't be put into any quickslots and cannot be placed into the world, but they can be stored in any storage item like chests and also given to other players by dropping a player bag from your inventory.
Be careful though: if nobody picks up the player bag and everyone leaves the area, the player bag will vanish like any full or only half-looted loot bag that are dropped from Creatures.
Rare Recipes (and Store-bought Recipes) are not world bound
Edit
All of the rare Recipes that you have learnt will "carry over" to new/other game-worlds in your Crafting Menu just like all the recipes you have bought from the Store.
This applies even to game-worlds where the game-world option "world bound recipes" is enabled in your Crafting Menu (so all common crafting recipes will have to be unlocked again on such game-worlds). When starting to play on a new game-world, all the rare Recipes plus all Store-bought crafting Recipes will be available in your Crafting Menu right from the start there. Only players who have bought or obtained the "Pro" DLC can disable this game-world option for their own worlds.
High-tier Recipes and low-tier Recipes
Edit
Low-tier recipes are those that can most often be discovered in low-tier chests like Wood Treasure Chests, Stone Treasure Chests and Obsidian Treasure Chests, while high-tier recipes can only be found in high-tier Treasure Chests like Iron Treasure Chests and Diamond Treasure Chests.
Despite these classifications that were invented during early Creativerse days, low-tier recipes do not have a higher chance to appear as a finding or drop in Creativerse, and high-tier recipes cannot be found less often.
In actual fact, some high-tier recipes have a significantly higher chance of appearing in high-tier Treasure Chests than others and can often additionally being dropped/pet-harvested from Creatures like Things, Silver Keepas or Golden Keepas. Several rare recipes can be obtained from ordinary blue Keepas too, however mainly as a pet-harvest and only rarely.
Only a few low-tier recipes are a lot more common than others because they cannot only appear in Wood Treasure Chests, but can also occasionally be dropped/pet-harvested from Creatures like Trogs, Dried Leafies and Dustevils (like Weathered Wood Wall, Banded Weathered Wood Wall, Barred Wood Window).
Things will often drop a lot of rare Recipes, and also provide players with some rare Recipes when they are Pets and have been fed their favorite Food. So you can easily collect a much larger number of high-tier recipes duplicates like for Beacons or Adobe Blocks after you have tamed a Thing and harvest from it regularly, while you might otherwise need to search for a long time for low-tier rare recipes like for colored Beds or "decorative" Walls/Floors.
Please note that Pets will always only provide you with their best harvest if you feed them their exact type of favorite Food. If the Pet prefers common Sandwiches for example, but you feed them Turnip Sandwiches, their harvest will be of lower quality and smaller amount. Even if you feed a modest Pet another Food type of a higher "quality", the Pet will still provide you with a less interesting harvest, since it's not its favorite fodder.
"Farming" rare Recipes
Edit
To make specific Treasure Chests and/or Creatures that carry rare Recipes appear, you can create artificial Biomes on the surface of the world, underground or even in the sky using natural blocks that chests and/or the Creatures you are searching for will usually spawn on - to "farm" them then.
Note that only one or two chests will spawn (but not every time!) as soon as you arrive at these arenas. Chests will only spawn in darkness, and most often at nightfall, so using a Bed to skip the day is recommended. Leaving the area can make Treasure Chests despawn that have already popped up, and revisiting areas more than once within the same night will most likely not make new chests spawn with each revisit.
List of currently known rare Recipes
Edit
Event themed Recipes
Edit
Halloween Edit
During Haunted Nights around Halloween Ghost Creatures will appear in the night and when killed (they cannot be tamed), they will drop Halloween-themed crafted blocks and items, however more rarely they will also drop these rare recipes:
Christmas Edit
Holiday Gifts can only be found during Christmas season and will often provide you with Christmas-themed crafted blocks and items, however they will more rarely also contain these rare recipes::
Ad blocker interference detected!
Wikia is a free-to-use site that makes money from advertising. We have a modified experience for viewers using ad blockers

Wikia is not accessible if you've made further modifications. Remove the custom ad blocker rule(s) and the page will load as expected.