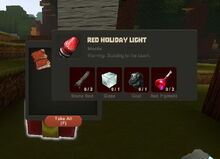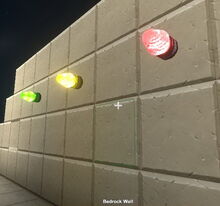 This rare type of Lighting can only be found during the Holiday Season event (prior to and around Christmas), either in randomly spawning Holiday Gift boxes or obtained from "arctic" creatures like Arctic Mirus, Rambeaus and Blizzard Chizzards.
Occasionally also crafting recipes for these colored lamps can be discovered in Holiday Gift boxes, so after learning this recipe you can craft the lamps yourself. Even though the crafting recipe is only available for a limited time, you can keep it after finding it.  
After learning the crafting recipe by right-clicking on its icon in your inventory, it will be permanently added to your crafting menu. As a rare recipe it will also carry over to all other gameworlds that you'll be playing on. 
With update R46 in September 2017, the exploit that allowed rare Holiday Recipes to be learned via Adventures was fixed. It is still possible to learn these Recipes by visiting players on their game world who have stored surplus duplicates of the Recipes.
To craft 8 Red Holiday Lights at a time, you'll need:
Like all luminaires in Creativerse, Red Holiday Lights do not need any fuel and will not go dark by themselves after being placed in the world.
Like all crafted objects and blocks, they can be picked up without the need to equip any Power Cells. Of course you won't be able to take Red Holiday Lights on claims of other players (or in worlds) where your permission level is set low.
Red Holiday Lights do not hinder player characters nor Creatures to walk over or stand in the exact same space that these small lamps "take up". That's why you can use lamps like these and torches of all kinds to create air bubbles under water that will help your player character to survive under water. However neither solid blocks nor liquids can take up the same space with these lamps.
Lamps that do not operate with fire like this one do not set flammable blocks on fire.
Red Holiday Lights can be rotated into all directions by holding R (as the default key) and moving the left mouse button. The chosen rotation angle can then be "locked" too by simply typing "R", so that all items of the same stack will be placed facing the same direction. 
Since update R33 Red Holiday Lights can now be switched on or off by activating them (right mouse button or "F" as the default key).
If you have placed Red Holiday Lights before August 2016, then you might have to pick them up and place them once again before they can be turned on and off.
| | |
| --- | --- |
| | Red Holiday Lights can be wired up with activation devices like Switches, Number Pads or Pressure Plates. Luminaires will then serve as receivers and can either be switched on or off. Their interactivity can be toggled and defined with permission settings. |
Ad blocker interference detected!
Wikia is a free-to-use site that makes money from advertising. We have a modified experience for viewers using ad blockers

Wikia is not accessible if you've made further modifications. Remove the custom ad blocker rule(s) and the page will load as expected.