Currently (R45 in July 2017) this is only one variant of Wall Shelves in Creativerse, which can display 3 items in a smaller shape than usually.
Shelves cannot be found in chests or harvested from pets, but can be crafted in your crafting menu (default key "Q") after unlocking the recipe by
You can craft 4 shelves at a time with (as of R45 in July 2017)
To use it, place it into the world and interact with it (right-click or default key "F"). A small window with 3 slots will be displayed any you can put all kinds of items into these slots from your inventory by dragging & dropping with your left mouse-button. You can also put whole stacks into these slots, but only if you drag one item or block of the stack after another into the according slot.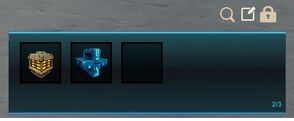 Currently (R45 in July 2017), you can place many things on these shelves:
all kinds of explosives
nearly all kinds of furniture, including storage chests
pretty much any kind of Blocks, natural or crafted alike (Building Blocks), including Stairs and Roofs, Beeswax and Vines
all Slabs (Obsidian, Iron, Diamond, Lumite), but no Rods, Ores nor Bars
all existing crafting stations (Cooking Stations, Forges, Processors and also the outdated Crafting Table), as well as Extractors, Excavators and Teleporters, but no Fans
nearly all Lighting, meaning torches and lanterns, also arctek ones
Queen Bees (that cannot be placed on any block, but most blocks of Wood and Leaves to produce Beeswax from) and Saplings
all Beacons except for Healing Beacons, but the Beacons will stay invisible currently
You cannot place
To use storage items, you will have to place and then activate them by right-click or typing "F" (as the default key) when looking at them.
You can name any storage item individually by activating/opening the item and then clicking on the
icon that looks like a square
(note) with a pen to the right of the item name. You can type up to 30 characters into this array.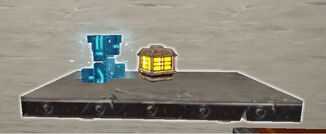 You can also change a few settings for each chest by clicking on the padlock-icon shown in the top right corner after activating/opening the chest. Here you can set individual authorizations to control who will be permitted access to this chest (and its contents). Available permission-settings currently are (June 2017): "just me", "world owner/admins", "world mods", "builders" or "everyone".
By clicking on the
magnifying glass icon
when in the chest, you can see the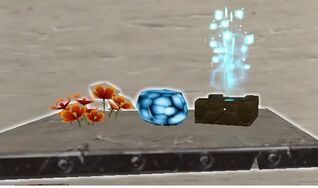 Transfer History to see who interacted with the chest in what way.
Ad blocker interference detected!
Wikia is a free-to-use site that makes money from advertising. We have a modified experience for viewers using ad blockers

Wikia is not accessible if you've made further modifications. Remove the custom ad blocker rule(s) and the page will load as expected.