[[Stone Table|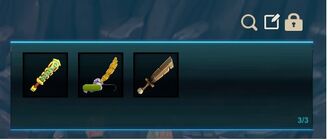 ]][[Stone Table|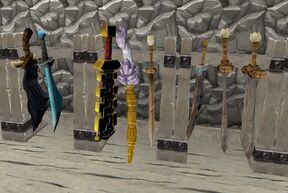 ]]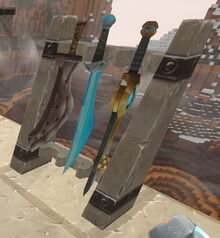 Currently (R45 in July 2017) this is only one variant of Weapon Racks in Creativerse. Every kind of sword can be displayed, including those crafted from premium recipes.
Stone Weapon Racks can be crafted (default key "Q") after unlocking the recipe by
To craft 2 Stone Weapon Racks at the same time, you will need (as of R45 in July 2017)

To use storage items, you will have to place and then activate them by right-click or typing "F" (as the default key) when looking at them.
You can name any storage item individually by activating/opening the item and then clicking on the icon that looks like a square (note) with a pen to the right of the item name. You can type up to 30 characters into this array.
You can also change a few settings for each chest by clicking on the padlock-icon shown in the top right corner after activating/opening the chest. Here you can set individual authorizations to control who will be permitted access to this chest (and its contents). Available permission-settings currently are (June 2017): "just me", "world owner/admins", "world mods", "builders" or "everyone".
By clicking on the magnifying glass icon when in the chest, you can see the Transfer History to see who interacted with the chest in what way.
Ad blocker interference detected!
Wikia is a free-to-use site that makes money from advertising. We have a modified experience for viewers using ad blockers

Wikia is not accessible if you've made further modifications. Remove the custom ad blocker rule(s) and the page will load as expected.